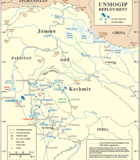 Download deployment_map.pdf
(260.96 KB)
UNMOGIP deploys UN Military Observers (UNMOs) in UN Field Stations on both sides of the Line of Control (LoC) and Working Boundary. In the Pakistan-administered Kashmir, UN Field Stations are located in Skardu, Gilgit, Domel, Rawalakot, Kotli and Bhimber. A Field Station is also located in Sialkot along the Working Boundary. On the Indian-administered side of the LoC, UN Field Stations are located in Poonch, Rajouri and Jammu. In addition, UNMOGIP has a Liaison Office in New Delhi.
UNMOGIP's Main Headquarters (HQ) directs and controls the activities of the Field Stations. UNMOGIP HQ is in Srinagar in the Indian-administered side of the LoC from May to October and in Islamabad, Pakistan, from November to April.  When UNMOGIP HQ is located in Srinagar, a Rear HQ is maintained in Islamabad and vice-versa.
The terrain in UNMOGIP area of operations is rugged. It features four mountain peaks 8,000 m above sea level and large patches of uninhabitable land. The region also has a history of devastating earthquakes. The climatic conditions may be extreme during part of the year, with frequent landslides and heavy snowfall in winter. UNMOs travel by land routinely through the dangerous mountain passes to inspect vast and remote areas.
The Pakistani and Indian armies provide drivers, security and other services for the HQ and Field Stations on their respective sides. The use of drivers, a long-standing practice, is important for the safety of UNMOGIP personnel due to the drivers' experience with the difficult terrain.